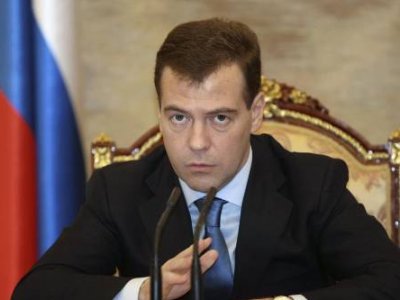 Russia announced on Tuesday it would finish building a new base for its Black Sea fleet by 2016 to replace the historic Crimean Sevastopol port it has been ordered by Ukraine to evacuate.
Sevastopol has been home to the Russian fleet for more than two centuries. With the 1991 collapse of the Soviet Union, it became part of independent Ukraine which has ruled out an extension of Russia's 20-year lease when it expires in 2017.
President Dmitry Medvedev flew to the site of the new base in Novorossiisk, now an important cargo port and giant oil export terminal. He was due to visit the fleet's flagship, the Moskva missile cruiser, one of the best remaining ships of a once-formidable navy run down in the post-Soviet era.
The fate of the fleet's base in Sevastopol has strong political overtones, seen as it is by Russian nationalists as eternally a part of Russia. Last year, its warships took part in Russia's five-day war against Georgia, a close ally of the United States which like Ukraine aspires to join NATO.
Russian-Ukrainian relations have been tense in recent years, with crises erupting over Russian gas deliveries to Ukraine.
"The construction of the facilities is due to be finished in full in 2016," the Kremlin said in a statement given to journalists during a trip to the city by Medvedev.
The base will accommodate 80 warships and auxiliary vessels, including newly built ships and will not disturb the work of the commercial port there, the statement said.
According to data published earlier by Russia's military, the Black Sea Fleet now includes about 50 ships and smaller vessels. It also has up to 80 planes and helicopters and some 13,000 servicemen.
Russian politicians and the military have repeatedly said Moscow would like to continue renting Sevastopol for its Black Sea Fleet after the expiry of the current lease in 2017. Novorossiisk occupies a much less favourable geographic position on the coast.