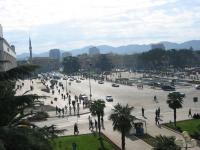 Albanian police said on Thursday that a car bombing in front the national assembly building in Tirana was most like linked to a possible business dispute involving the owner of the vehicle.
The car, a Mercedes Benz SUV owned by a local businessman, exploded on Wednesday evening, damaging shops and nearby windows. No injures were reported from the blast.
The preliminary finding of the investigation suggest that the explosion was caused by a remotely detonated bomb placed in the front wheel well of the car, which was parked on George W Bush Street.
Only a month ago, another businessman and local politician, Aleksander Keka, was found dead after his car exploded and went off-road close to the city of Shkodra.
Keka was the local head of the Christian Democratic Party in the Malsia e Madhe region in northern Albania, and also ran a construction company in Shkodra.
The 38-year-old was found a few metres from his burning car on the highway linking the town of Koplik with Shkodra. Police are still investigating the cause of the explosion and have not yet come up with any suspects.
After Keka's death, police declared that the victim was a suspected drug dealer and arms trafficker – a charge that his family vehemently denied.