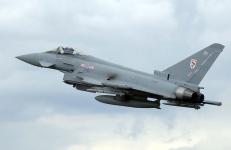 Italy's air force squadrons will patrol Albanian airspace, following the country's accession into the NATO alliance in April.
According to the restructuring plans of the Albanian armed forces, Tirana has retired its ailing MIG fighter jet fleet, while in the framework of NATO, the integrity of the country's airspace, has to be guaranteed by the alliance. 
According to the local broadcaster Top-Channel TV, Eurofighter and F-16 jets based in the Gioia dell Colle air base, close to Bari in southern Italy, will conduct the patrols.
Since 2007, the Italian Air Force has also patrolled Slovenia's airspace following its NATO membership.
Velizar Shalamov, a NATO expert and former Bulgarian deputy defence minister, said the patrols will provide added security for Albania, although they do come with some attached costs.
"Although a NATO country will patrol its airspace, Albania will still need to upgrade its radar and communication systems," Shalamov told Balkan Insight.
Albania joined NATO, together with Croatia, at the alliance's summit in Strasburg on April 2.