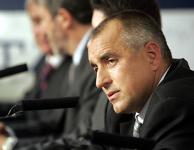 Boyko Borisov, deputy president of the Bulgarian Citizens for European Development of Bulgaria, GERB, which won general elections last month, has been handed a mandate to form a new government within seven days, Bulgaria's Focus news agency reported.
Under Bulgarian law, Borisov, GERB's informal leader and likely new prime minister, has a seven-day deadline to present the names of the candidates for the new parliament. The mandate was handed to Borisov by Bulgarian President Georgi Parvanov yesterday.
On Wednesday, GERB released a document proposing the cooperation with other rightist parties, the Blue Coalition, the Order, Law and Justice (OLJ) and Ataka. The party also held meetings with the parliamentary groups of the four political parties.
Borisov said he felt obliged to his voters to announce a new cabient on July 27, and express hope that support from other parties would ensure an absolute majority.
GERB Chairman Tsvetan Tsvetanov told The Standart that consultations on a new cabinet were possible with every party in parliament with the exception of two members of the outgoing ruling coalition, the Bulgarian Socialist Party and the Movement for Rights and Freedoms.