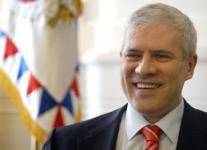 Regardless of its EU aspirations, Serbia will continue to support the Non-Aligned Movement's main objectives, Serbian President Boris Tadic said Thursday at a closing session of the movement's summit in Sharm El-Sheikh, Egypt.
"We encourage the movement's commitment to promoting democratization and international relations, and respecting of universal human rights," said Tadic, adding that achieving such goals was necessary for overcoming economic inequalities, especially during the global financial crisis. 
The 15th summit of the Non-Aligned Movement, which took place in Sharm El-Sheikh, gathered 100 representatives from more than 100 countries to discuss international relations, economic issues and social policy. As part of the former Yugoslavia, Serbia has been a member of the movement since 1991.
Tadic reminded the audience that Article 30 of the Sharm El-Sheikh declaration affirmed the member-states' commitment to fully comply with international law, the International Court of Justice (ICJ) and the efforts to settle all disputes in keeping with the UN Charter and ICJ Statute.
He found it consistent with Serbia's decision not to recognize the independence of Kosovo and thus expressed hope that the movement would support Serbia's diplomatic fight to maintain its territorial integrity.
Recalling that the Non-aligned Movement was founded at a conference in the Serbian capital Belgrade, Tadic proposed Belgrade as the host for the movement's 50th anniversary summit in 2011.