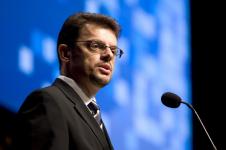 There is no need to make urgent and hasty decisions although Macedonia will probably have to make one more budget cut by year's end, the new finance minister said Sunday.
"Our preliminary analyses indicate that there will be a need for a re-balance in the third quarter of 2009. However, the need is not of urgent nature," Minister Zoran Stavreski said in an interview with Radio Free Europe.
Earlier this month, shortly before stepping down from office, his predecessor Trajko Slaveski appealed for an urgent 100 million euros budget cut. He warned that tax revenues are plunging dramatically as a result of the shrinking economy, amid the global downturn.
"My assessment is that there is no need for such drastic cuts in the expenditure side of the budget," Staverski said. He explained that the exact amount of the re-balance will depend on the level of revenues in July and August.
The Finance Ministry confirmed that tax revenues had dropped by 12 percent in recent months, but pointed out that, according to preliminary results, the revenues inflow has been gradually stabilizing, which promises better results in the near future.
Due to lower tax incomes Macedonia has already cut some nine percent of its budget this year. The country's flagship industries: iron and steel production, textiles and building materials, like many others, have had a very hard time finding buyers for their products abroad.
Although the government is still optimistic about this year's economic growth, keeping the set at plus one percent, the International Monetary Fund has forecast that the Macedonian economy will contract by two percent.
Last year the national economy grew by more than five percent.