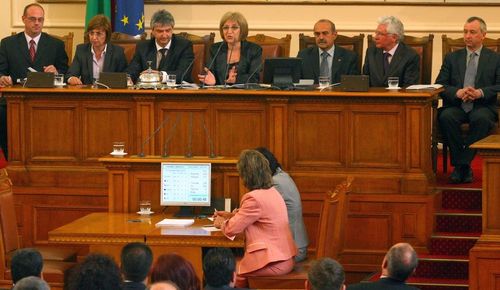 Bulgaria's Parliament will forego its summer recess, Speaker Tsetska Tsacheva said on July 28 2009. She was speaking on the eve of the National Assembly finalising the names of committee chairpersons and members.
Overtime was needed to bring in legislation from Prime Minister Boiko Borissov's new government, Bulgarian National Television quoted Tsacheva as saying. Full sittings of the House may not happen for some days but in the meantime standing committees would debate bills, she said.
She said that work was being done on the question of making it possible to following Parliament's proceedings on its website. The National Assembly is in its first stages of work after the July 5 2009 elections that saw victory for Borissov's party GERB.
On July 29, Borissov's Cabinet will hold its first regular meeting, the Government media service said. On the agenda will be steps to optimise ministries' budgets to cut spending against the background of the financial and economic crisis.