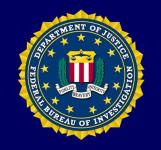 Kosovo Albanian Hysen Sherifi has been charged in the US alongside six others in connection with an international terror plot, which included a potential attack on Kosovo.
The 24 year old, who is a US resident, was indicted in Raleigh, North Carolina, for attempting to engage in 'violent jihad', the FBI announced on Tuesday.
Prosecutors claim Sherifi visited Kosovo in July 2008 "to engage in violent jihad", before returning to the US in April 2009 to raise "funds and personnel to support the mujihadeen".
All seven defendants are charged with conspiracy to provide material support to terrorists, as well as conspiracy to murder, kidnap, maim and injure persons abroad.
In addition, Daniel Boyd, 39, allegedly the leader of the cell, Hysen Sherifi and Zakariya Boyd are charged with possession of a firearm in "furtherance of a crime of violence".
Between 1989 and 1992, Boyd is alleged to have travelled to Pakistan and Afghanistan, where he received military-style training in terrorist training camps.
The indictment alleges that Daniel Boyd traveled to Gaza in March 2006 and attempted to enter Palestine in order to introduce his son to individuals who also believed that "violent jihad was a personal religious obligation", according to the indictment.
Later, in October 2006, defendant Ziyad Yaghi allegedly left the United States for Jordan "to engage in violent jihad".
In June 2007, Daniel Boyd and several other defendants left the United States for Israel in an effort to engage in "violent jihad", but ultimately returned to the United States after failing in their efforts.
In February 2008, Daniel Boyd allegedly solicited money to fund the travel of additional individuals overseas to engage in "violent jihad" and in March 2008, discussed with Anes Subasic preparations to send two individuals abroad.
He allegedly accepted $500 in cash from defendant Sherifi to be used to help fund jihad overseas and later showed Sherifi how to operate an AK-47.
In July 2008, Sherifi allegedly left the United States for Kosovo "to engage in violent jihad". According to the indictment, Sherifi later returned to North Carolina in April 2009 to raise funds.
"The indictment alleges that Daniel Boyd is a veteran of terrorist training camps in Pakistan and Afghanistan who, over the past three years, has conspired with others in this country to recruit and help young men travel overseas in order to kill," said David Kris, Assistant Attorney General for the National Security Division.
"Given the weapons allegedly involved in this conspiracy and the seriousness of the charges, the many agents, analysts, and prosecutors who were able to bring about this case and safely remove these defendants from our streets deserve special thanks."
US Attorney George E.B. Holding said: "These charges hammer home the point that terrorists and their supporters are not confined to the remote regions of some far away land but can grow and fester right here at home."
All seven men risk life prison if found guilty.