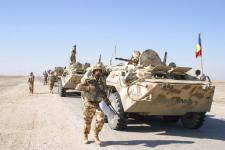 Albania will quintuple its military deployment in Afghanistan ahead of parliamentary elections in the central Asian country.
"Albania has decided to increase its contribution to the alliance forces in Afghanistan, ahead of the August poll, [which are] seen as crucial for the country," the Foreign Affairs Ministry said in a statement released Tuesday. 
Currently, 30 Albanian commandos are serving under Italian command in Herat. An additional contingent of 120 troops will be sent in to boost security before the elections, as coalition forces continue to battle Taliban insurgents in southern Helmand province.
Albania also had troops involved in the United States-led mission in Iraq from the 2003 invasion until last December.
In Iraq, Albania maintained a non-combat contingent of 200 personnel, stationed at Mosul Airport.
Together with Croatia, Albania joined NATO at the Strasbourg summit in April.
In July 2008, Albania sent 120 commandos to Chad in central Africa as part of the EU mission there.
Albanian peacekeepers are also part of the stabilisation mission in Bosnia.