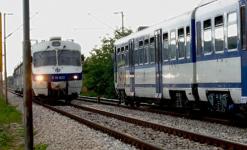 All members of Croatian Railways' infrastructure board have been sacked in the wake of Friday's fatal derailment. Six people were killed and 55 injured in the accident which occurred near Kastela, Split.
Prime Minister Jadranka Kosor and Transport and Development Minister Bozidar Kalmeta agreed on the sacking of the board, but Croatian Railways head Zoran Popovac will not face suspension.
The infrastructure board is responsible for the acquisition of equipment and maintenance of the rail network. Eight people have been taken into custody by police on suspicion of precipitating the derailment, and five have been taken to the investigative court.
The Croatian TImes reports that the suspects are believed to have spread a substance – that may have been herbicide Tordon (TG-300) – on the tracks before the train passed.