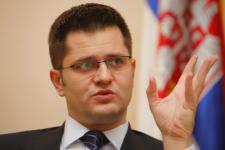 Serbian Foreign Minister Vuk Jeremic has refused to rule out the possibility of recognising Kosovo's independence in an interview with the BBC. Jemeric told the BBC's World Tonight programme on Monday night that Serbia wanted negotiations with Pristina, adding that Belgrade would be "very flexible".
Asked explicitly if the Serbian government might recognise Kosovo's independence, Jeremic said: "We don't want to exclude any options. We need to come to the table and see what happens."
"We are not going to make a mistake of calling in advance what the result is going to be. The most important thing is to find a compromise solution, and there, we will be very flexible."
The official stance of the Serbian government is that Kosovo is entirely and eternally a part of Serbia.
In his last interview with the BBC in February this year, Jeremic explicitly said that if Kosovo recognition is set as a condition for Serbia to achieve any aim, it would be setting a condition for Serbia that would violate its constitution.
The main topic of the BBC programme was the plight of Kosovo Serbs. The Serbian FM said he was concerned for Kosovo Serbs' safety since NATO's KFOR intends to reduce troop numbers from 14,000 down to 10,000 by January.
Jeremic's Kosovo counterpart Skender Hyseni said on Tuesday: "We would welcome Serbia's recognition of Kosovo independence.
"However, demand for launching a new negotiation process is impossible since Kosovo doesn't want to accept any sort of negotiations regarding its status," Fonet news agency quoted Hyseni as saying.