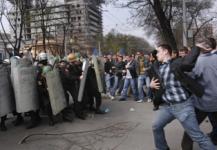 Romanian President Traian Basescu said Thursday that "opposition and democratic forces" had won the snap parliamentary elections in neighbouring Moldova.
Bucharest was waiting expectantly on the results of Wednesday's Moldovan election, which could help determine whether the former-Soviet republic remains in Russia's orbit.
Preliminary results, released by the Moldovan Central Election Commission, show the four largest opposition parties winning a combined 50.7 per cent of the vote, with 99.4 percent of ballots counted. The Communists received 45.1 per cent support.
This puts the opposition on course to win 53 seats in the legislature, eight less than the number required to name the president without backing from another party. The Communists are on course to win 48 seats.
The OSCE said Thursday that the vote was consistent with most international norms.
Some analysts expect the Communist party to seek to remain in power through making a deal to split the opposition front in which Democratic Party leader, Marian Lupu, who left the Communists only last month, agrees to support his former party in return for the ouster of President Vladimir Voronin.
Moldova has been in political paralysis since April 5 parliamentary elections sparked violent protests, with the opposition claiming the ballot was faked.
Elections in Moldova are followed closely in neighbouring Romania. Most of Moldova was part of Romania until its annexation by the Soviet Union in 1940. Moldova won independence in 1991.
Relations between the neighbouring countries have deteriorated since Moldova's outgoing Communist government accused Romania of inciting rioting in the wake of the contested April elections.
Bilateral relations between Romania and Moldova worsened further when the then-Romanian ambassador to Moldova was declared "persona non grata".