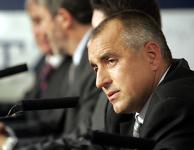 Addressing growing calls for a presidential republic, Bulgarian Prime Minister Boiko Borisov refused to say whether this would prompt him to seek the job, the Novinite news agency reports.
Borisov was non-committal in addressing an ongoing campaign by former president Zhelyu Zhelev to transform the Bulgarian political system into a full republic marked by presidential preeminence, with Borisov as the first office holder. 
"No changes should be made for the sake of one party or one man. All decisions should be based on public discussions. Zhelyu Zhelev is a man whom I respect very much. He has just expressed an opinion, which should be discussed," Borisov was quoted by the BGNES news agency as saying.
Novinite notes that public surveys show that the the idea of a full presidential system enjoys widespread popular support.
The agency reports that, with his GERB party just short of an absolute majority in parliament, it could be possible for Borisov to enter informal alliances with other parties that would enable constitutional emendations.