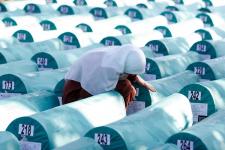 There are indications that at least two new mass graves are located in the grounds of the former UN peacekeepers' base in the Bosnian town of Srebrenica, local media reported on Friday.
The information about the possible mass graves was revealed at the time of the 14th commemoration of the Srebrenica massacre earlier this month. Around 8,000 Bosniak (Bosnian Muslim) men, children and elderly, were executed by Bosnian Serb forces after they overran the UN-protected enclave in July 1995.
Representatives of Srebrenica survivors and victims' families received new information on further mass burials during their recent meeting with Dutch soldiers who served in the UN force in Srebrenica during the war.
According to Amir Kulaglic, from the Research and Documentation Center, one of the two mass graves could contain the bodies of at least five elderly men, one woman and two children. It is unknown what the other mass grave may be hiding.
Citing the Dutch soldiers, who buried the dead in the two mass graves, local media said that the graves contained people who died of natural causes or committed suicide while they were staying within the perimeter of the UN base during the siege of Srebrenica.
Responding to the media reports, on Friday the Tuzla public prosecutor's office requested information from Bosnia's Institute of Missing People concerning whether any digging had been carried out in the past at that location.
Citing unofficial reports, the media said that nothing was found during previous searches at the former UN base.
Reporters also questioned why Dutch soldiers were quiet about the possible existence of the burials for so long.
"Although the group of Dutch soldiers probably wanted to clear their conscience by revealing the information about the existence of the two mass graves, the fact is that they were quiet for 14 years, during which there was a constant search for the missing Srebrenica people," Federation Television, FTV, said in its report, which was also uploaded to YouTube.
The massacre of Bosniaks in Srebrenica is seen as the single biggest mass killing in Europe since World War II. Once the world learned the details of how Bosnian Serb forces carried out mass executions and hid the bodies in mass graves, it triggered a global public uproar. This, in turn, led to NATO air strikes on Bosnian Serb positions across the country, which eventually brought an end to the war and allowed the signing of the Dayton peace accord.
So far, the remains of 3,124 identified men, women and children have been discovered and reburied at the memorial center in Potocari near Srebrenica. An additional 173 identified bodies have been buried elsewhere.
During the recent commemoration of the massacre, the remains of an additional 530 discovered and identified people were reburied at Potocari.
Over 3,000 bags with body parts of Srebrenica victims are still awaiting identification at the International Center for Missing Persons in Tuzla. At least 2,000 people are still considered missing.