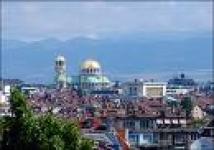 The headquarters of the Bulgarian State Agency for National Security (SANS) was evacuated on Tuesday following a bomb threat, The Sofia Echo reports.
Most staff left the SANS headquarters, a perimeter was established around the building, and a bomb disposal team was dispatched to the scene. This, after the Interior Ministry received information that the building had been rigged with explosives. 
Private television station BTV quoted SANS former director Petko Sertov as saying that his secretary and several other officers remained inside the building.
The Ministry of Interior's press centre later confirmed that a bomb threat had been received.
The Sofia Echo reports that Prime Minister Boiko Borisov has accepted Sertov's resignation, thanking him for his efforts, while adding that he wants to streamline the agency's work and "raise its authority".
SANS was established in January 2008 to combat organised crime and high-level corruption but had come under intense criticism from opposition parties.
Sertov had received strong support from the prime minister's predecessor, Sergei Stanishev, and chose to resign only days after Borisov took office, the newspaper noted.