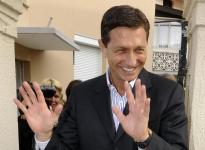 The former head of the Croatian-Slovene commission for borders, Peter Tos, believes joint governance is the key to solving the countries' grinding border dispute, Javno reports.
Tos presented his vision for the resolution of the border issue in an interview with Slovenia's Dnevnik daily, saying, "the optimal solution would be a condominium over the Savudrija Cove" – also known as Piran Bay. 
Neither state currently proposes the establishment of a condominium, which is an area in which sovereignty is shared and may involve the establishment of joint governance structures.
Tos said the establishment of a condominium would allow the Slovenes greater access to the Adriatic and fisheries without the transfer of disputed Croatian territorial waters to Slovenian suzerainty.
Javno notes Slovene media speculation that this solution was raised during last week's meeting between Slovenian Prime Minister Borut Pahor and his Croatian counterpart Jadranka Kosor.
Tos believes that Kosor's rise to power may well signal that a breakthrough is near, without the help of a third party. The EU washed its hands of the feud after failed mediation efforts.
Ljubjana blocked Croatia's NATO membership drive in December over the border dispute.
Speaking after last week's Trakoscan summit, Pahor expressed optimism that a "final solution" could be achieved by year's end, Javno reports.