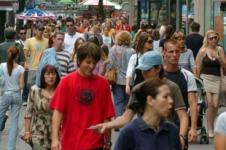 Serb minorities in neighbouring countries do not enjoy full equality and are not guaranteed their collective rights, Serbian NGO Napredni klub argues in a new report.
The report argues that Serbs do not enjoy equality with fellow citizens in Croatia and Bosnia and Herzegovina. It finds that the status of ethnic Serbs in Montenegro, Slovenia and Albania is undefined; while in Macedonia, Hungary and Romania Serb cultural identity has started to disappear. 
The study relates that there are two million Serbs living in Balkan countries outside Serbia.
The president of Napredni klub, Cedomir Antic, argued that the regional position of Serbs is not a political, economic or cultural policy priority for the Serbian government. He said that the report is aimed at encouraging the state to attend to the issue.
"Serbs in the [Bosnian] Federation do not enjoy the same status as Croats and Bosniaks in Republika Srpska or Serbia. For example, as many as 70 Serb-settled villages in the Federation have no electricity," said Igor Jaramaz, one of the authors of the report. To Jaramaz, this is a clear sign that the authorities are seeking to build pressure on these communites.
Although Serbs make up a third of the population of Montenegro, their status as a minority or constitutive nation remains undefined and they are not equally represented in state institutions.
Serbs in Slovenia do not have the status of an autochthonous national minority, and the Serbian community in Macedonia has no freedom of religion, the report claims.
The number of Serbs in Albania remains unknown, while Serbs in Hungary and Romania are threatened with assimilation, the study's authors opine.