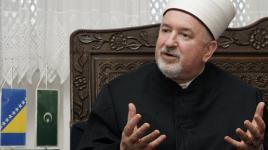 A three-day visit to Kosovo by the influential leader of the Islamic Community in Bosnia and Herzegovina, Mustafa Ceric, is proving controversial
Describing the visit as promoting the "destabilisation of the region", Milorad Dodik, the premier of Bosnia's Republika Srpska entity, stressed that Bosnia has not recognised Kosovo's independence.
"Obviously [Bosnian Muslim] politicians in Sarajevo do not have the strength, or do not want to go to Kosovo because of the political context, but they use their ideologue […] Mustafa Ceric, to do it," Dodik said, adding that Ceric was "playing a dangerous game".
"This is a kind of provocation and gives logistical support to Shiptars [Kosovo Albanians]," Ljubomir Kragovic, from Serbia's Radical Party, opined.
The visit comes after Ceric's recent trip to Serbia's predominately Bosniak (Bosnian Muslim) region of Sandzak. He was invited to visit Kosovo by the local Islamic Community. The majority of Kosovo Albanian's are Muslims, as are the 50,000 Bosniaks living in their midst.
During his visit, Ceric is scheduled to meet Kosovo President Fatmir Sejdiu and the head of the Kosovo Islamic Community Naim Trnava. He will also preside over Friday prayers at a Prizren mosque, Bosnia's Islamic Community said in a press statement.
Bosnian Serb leaders have been increasingly critical of Ceric over what they perceive is his growing engagement in lay issues, including national politics.
During his Sandzak visit, Ceric claimed that Muslims and Bosniaks in Serbia are in jeapardy. On a recent trip to Turkey he said that "this was the time of the awakening of Bosniaks and Bosnia".
The comments triggered a round of verbal duels between Ceric and Bosnian Serb leaders.
Vuk Antonijevic, the former head of Serbia's Coordination Center for Kosovo, said that Ceric's visit to Sandzak was "a great humiliation for Serbia".
Ceric was welcome in Kosovo if his visit was intended to offer comfort to Kosovo Bosniaks, who are experiencing the same repression as other non-Albanians in Kosovo, Antonijevic said. He stressed that Ceric was "not welcome" if his visit was in any way linked with the issue of Kosovo's independence.
The comments of Bosnian Serb and Serbian officials reflect lingering political and ethnic tensions in Bosnia, Serbia and Kosovo.
"Political statements from Ceric talk about what is called political Islam, in which he has undertaken a role of defining political positions regarding Bosnia and Herzegovina and the rest of the region," Dodik said.
"We are not naive," he added, arguing that, if Bosnian Serbs were not opposed, Bosniaks in Bosnia's state institutions would quickly recognise Kosovo's independence.