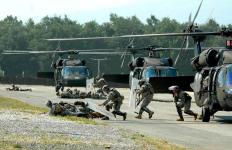 Citing current conditions, Serbia's minister for Kosovo and Metohija, Goran Bogdanovic, argues that Kosovo Force, KFOR, should not be reduced.
For the first time in ten years, NATO has made extensive cuts to its peacekeeping forces in Kosovo and Metohija, with KFOR reduced from 44,000 to 13,849 troops, daily Politika reports. KFOR says that "over 14,000" troops are still deployed in Kosovo.
The minister claims that Serbs in Kosovo do not enjoy freedom of movement and that ethnic clashes persist. He believes that KFOR is the only force that local Serbs can trust, arguing that Kosovo security forces would not be able to secure calm and stability.
"The Kosovo Security Forces, as an ethnic Albanian formation, are unacceptable to us [Serbia]. Those forces consist of former Kosovo Liberation Army members and have been committing malfeasances […] which explains why Serbs cannot trust them," the daily quoted Bogdanovic as saying.
KFOR troops entered Kosovo on June 12, 1999, under the terms of UN Security Council Resolution 1244. As the deployment took shape, up to 44,000 soldiers from 39 countries were grouped into four, and then five, regionally-based multinational brigades.
Newly-appointed NATO Secretary-General Anders Fogh Rasmussen said on Monday in Brussels that KFOR could be significantly reduced to a small reaction force or even completely withdrawn by the time his four-year term ends. Rasmussen added that a complete withdrawal could be made possible through "achievements in the field".
Bogdanovic said he does not believe that such achievements have occurred. He added that the only way he can take Rasmussen's statement is as a claim that things are going well in Kosovo and Metohija, intended for the ear of countries that have already recognised Kosovo's independence.
The head of NATO's Southern Command, Admiral Mark Fitzgerald, announced last month in Pristina that KFOR could reduce its deployment to around 2,500 troops over the next two years.