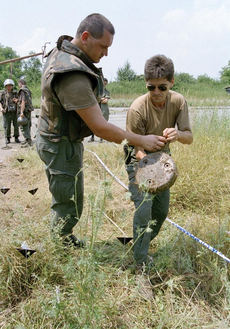 BRUSSELS – The EU should step up aid for demining activities in Croatia, where almost a 1,000 square kilometers of suspected minefields still wait to be cleared – an effort which could take another 50 years at the current pace, an official from the most affected region.
"We speak on behalf of the 500 people who died after the war and the 1,500 who were injured by landmines. Our region remains the most affected one," Stjepan Ribic, the representative in Brussels of the Slavonia and Baranja region, stretching from the east of Croatia to its borders with Hungary and Serbia, said.
Mr Ribic fears that the central government in Zagreb is not a strong advocate of aid to the region, which has neither posh Adriatic coast resorts beloved by EU tourists nor the prominence of a capital city.
Immediately after the 1991-1995 war, international assistance was channeled to demining roads, tourist destinations and public places. Gradually, these activities became the sole responsibility of the national government, which pledged to have the country mine-free by 2010.
The deadline was later extended to 2018, with some 955 square kilometres still under the skull and crossbones sign despite plans for the country to enter the EU in 2011.
The EU contributed €24 million between 1999 and 2007 as part of its direct support for post-war reconstruction. The assistance focused mainly on demining houses and yards in the area around the Adriatic resort of Zadar and along the border with Serbia, especially around the town of Vukovar.
But the region of Slavonia and Baranja would need more than 10 times this amount in order to complete the clearing of suspected minefields on time, Mr Ribic said.
"In our area they have to check centimeter by centimeter, you can't do it with a tractor or a special machine, because there are woods, rivers, and you must pass centimeter by centimeter to be sure that you cleared the field," he explained.
With no precise maps detailing the exact location of the landmines as was the case in post-war Germany, demining efforts in Croatia are harder as time passes by and, for instance, unexploded ordinance is moved along river banks.
"It should be a priority of the EU, which is one of the world's biggest donors on demining efforts all around the globe – from Africa to Asia – with €1.5 billion earmarked for these activities in 1997-2007," the Croatian official said.
"To me it would make more sense if the EU would clean up its own yard first and then go help other countries."
Farming potential
Still the poorest region of the former Yugoslav country, Slavonia and Baranja has huge potential for bio-agriculture, if the inhabitants would finally get access to their lands.
In regards to the current EU funds flowing to Croatia under the so-called Instrument for Pre-Accession (IPA), the commission has said that the only way it could finance demining activities was if these were part of other projects, for instance laying bicycle tracks or golf courses.
But economic development projects are hard to roll out without demining first, while most lands are privately owned, which makes them ineligible for EU funding, Mr Ribic said, urging the EU to show more flexibility in the use of IPA funds and to adapt to what he calls a "unique situation" in a candidate country.
So far, "no funds have been allocated for Croatian demining from IPA," Mirella Rasic from the commission's delegation in Zagreb told EUobserver.
She added that this was in line with the Croatian government's own needs-assessment, suggesting that Zagreb is not particularly keen on including demining in EU-sponsored programmes.
Not on the list
Mr Ribic was also astonished to see that in the commission's guidelines on EU mine action for 2007-2013, Croatia was not mentioned alongside countries such as Belarus, Bosnia, Kosovo, Ukraine, Afghanistan, Laos and Cambodia.
After some insistence, Croatia was put on the register, but the EU executive stressed that this would not mean automatic support for mine action in this or any other country. Demining assistance would only be negotiated on a bilateral basis with each country, it said.
"The problem is that Zagreb doesn't have landmines, so this is not a priority for them. But for our region, it's the number one priority," Mr Ribic concluded.