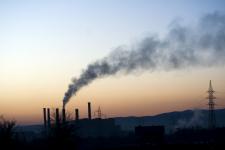 Another bidder has pulled out of the 3.5 billion euros project to revolutionise Kosovo's energy sector.
German utility EnBW firm and its US-based partner WGI confirmed to Balkan Insight that they are no longer interested in investing in the scheme to build a 2,000MW plant on the outskirts of Pristina.
Last month, Kosovo's government confirmed details of the proposed plant, which is expected to be put out to tender soon.
Four consortia had expressed interest in the lucrative deal. But, on the eve of the decision, German company RWE said it would not bid for the Kosova e Re power plant.
Following the withdrawal of EnBW on Monday, only two consortia are currently expressing an interest in the scheme: Czech power firm CEZ, the largest central European energy company, with AES of the United States; and Italian energy group ENEL and Sencap, in a bid involving Greece's Public Power Corp and US energy company ContourGlobal.
EnBW said in a statement: "Both, EnBW and our partner, have recently completed a review of their investment opportunities and strategies and have reprioritised foreign markets and projects. In doing so, both companies have concluded that they will no longer be participants as investors in the project."
The 2,000MW plant will built in two 1,000MW phases. It will provide Kosovo with enough energy for its two million residents and allow it to become an electricity exporter
Balkan Insight previously revealed the struggle between the US and World Bank and different factions of the government over what should be offered in the tender.
The opposing sides could not agree on whether the tender should include Kosova A and B, the country's aging power stations. They also differed on whether the full 2,000MW plant should be included in the first tender, or whether the project should be split with 1,000MW capacity developed under the first tender, and the possibility of a second 1,000MW plant in the future.
During a visit by senior Kosovo leaders to Washington in early July, the World Bank and US agreed to take a joint position on the issue. Several officials close to the deal told Balkan Insight that the compromise broadly favoured the World Bank position, which advocates removing the older power stations from the tender for Kosova e Re, and a phased approach to building the new lignite-powered plant.
The government expects to close the aging Kosovo A in 2014 or 2015, while Kosovo B will be renovated as part of a separate public-private deal.
Kosovo reportedly sits on the fifth largest lignite coal reserves in the world, and positioning the country as a regional power exporter is seen as key to its economic development.
A date for the publication of the tender has not been set.