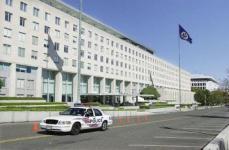 The US does not support "any kind of partition of Kosovo", US State Department spokesperson Mark Toner said, in comments carried by Tanjug. "I can tell you that our policy remains unchanged," local Albanian media in Pristina quoted Toner as saying. He added that the US supports the sovereignty and territorial integrity of Kosovo within its existing borders.
Toner is unfamiliar with proposals for the exchange of territory in northern Kosovo for municipalities in southern Serbia, Tanjug reports.
Serbian daily Borba reported last week that the president of southern Serbia's Presevo municipality, Ragmi Mustafa, did not rule out the possibility of a territorial exchange between Kosovo and Serbia. Under such a scheme, areas of northern Kosovo in which Serbs form a majority would be swapped for areas of southern Serbia in which Albanians are the predominant ethnic group.
Serbia's state secretary for Kosovo and Metohija, Oliver Ivanovic, told Tanjug that the Serbian government will not consider dividing Kosovo, or a territorial exchange since both "Kosovo and south Serbia are part of Serbia's territory".