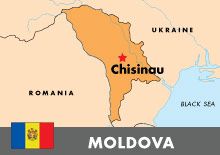 CHISINAU, Moldova
The Moldovan Constitutional Court says it will decide on August 14 whether to order a recount of the July 29 parliamentary elections as requested by the Popular Christian Democrat Party, RFE/RL's Moldovan Service reports.
The Christian Democrats, who allied themselves with the ruling Communist Party over the last four years, hope to prove that fraud is what prevented them from gaining enough votes to enter the new parliament.
Radu Busila, the party representative to the Central Election Committee, says the alleged fraud involved some 3,200 missing ballots. He says that a single missing ballot could be used for large-scale fraud.
Central Election Committee Chairman Eugen Stirbu dismissed allegations about missing ballots as "nonsense."
The Constitutional Court has to make a decision about validating the elections results by August 17.
A decision on August 14 in favor of the recount of the votes could delay the procedure by a week. But it is unlikely to delay the first session of the new parliament, which is expected to convene by August 29 at the latest.
The Constitutional Court refused a request by the Christian Democrats last week to recount the votes.