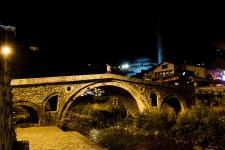 A Serb suspected of having played a part in the destruction of the League of Prizren house in 1999 has been remanded in custody for 30 days.
Goran Vuckovic was charged with the war crime and threatening behaviour, following his arrest on Tuesday.
The house where the League of Prizren – a political organisation which fought for Albanian rights and territory – was formed in 1878 was destroyed during the 1999 conflict in Kosovo. It has since been reconstructed and is used as a museum. 
On Thursday night, the court in Prizren extended Vuckovic's remand, on the prosecutor's advice.
"He is remanded in custody for 30 days, suspected of allegations of having committed war crimes," Kosovo police spokesperson Arber Beka told Balkan Insight.
Vuckovic was first arrested by police when he allegedly threatened a fellow villager.
He has lived in Serbia since 1999 and was visiting his parents in Gornje Selo, Prizren, a mixed village which is now mainly Bosniak, at the time of his arrest.
The EU rule of law mission in Kosovo, EULEX, is now dealing with 1,200 war crimes cases passed on by the UN mission in Kosovo, UNMIK.