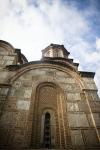 The decentralisation of Kosovo's municipalities took a step forward on Thursday when International Civilian Representative Pieter Feith appointed a team to create the new municipality of Gracanice/Gracanica.
The 16-strong team will prepare all resources, properties and administrative structures needed to establish a new municipality in Gracanice/Gracanica.
The appointed members of the Municipal Preparation Team will be joined by a representative of the Local Government Administration Ministry. A representative of the current municipality and another from the International Civilian Office will also join the team.
The move follows the creation of a team in Kllokot-Verbovc/Klokot-Vrbovac, which started work on the foundation of a new municipality last month.
Decentralisation is a key part of Maati Ahtisaari's plan for resolving Kosovo's status. The plan led to Kosovo's declaration of independence in February 2008. Ahtisaari was the UN Special Envoy for the Kosovo status process negotiations.
Gracanice/Gracanica is a Kosovo Serb enclave and is home to a famous monastery, which is on UNESCO's World Heritage List.
Ahtisarri's plan foresees the establishment of five new municipalities: Gracanice/Gracanica, Kllokot-Verbovc/Klokot-Vrbovac, Partes/Partes, Ranillug/Ranilug, and Mitrovice/Mitrovica North. One existing municipality, Novoberde/Novo Brdo, will also be expanded.
Feith said: "The establishment of the Municipal Preparation Team for Gracanice/Gracanica shows that decentralisation in Kosovo is moving forward."
"Citizens can take their destiny in their own hands and get better schools, roads, health care and opportunities for jobs," he said.