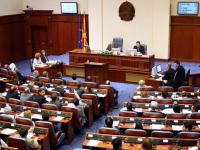 MACEDONIA
Macedonia's parliament adopted a new Law on Parliament after heated debate on Monday night, in a session boycotted by an opposition ethnic Albanian party.
The Democratic Party of Albanians, DPA , kept its pledge to boycott parliament from this week, in lieu of the collapse of the ruling coalition.
Explaining the boycott decision, DPA legislator Imer Aliu said that parliament has ignored "the political will of Albanians" for more than a year. The DPA alleges that the legislature has turned into a mechanism that foments crises through passing legislation at odds with the 2001 Ohrid Peace Accord.
Following the 2008 general election, the former coalition partner of the DPA, the ruling centre-right VMRO-DPMNE, chose to form a new government with a second ethnic Albanian party, the Democratic Union for Integration, DUI.
While requested by Brussels, no consensus was reached prior to the passage of the Law on Parliament. The bill won the backing of deputies from VMRO-DPMNE, DUI and the largest opposition party, the Social Democrats.
A third ethnic Albanian party, the opposition New Democracy, voted against the parliamentary law, demanding greater use of the Albanian language in the assembly.
Brussels requested the adoption of this law and several others as benchmarks Macedonia must fulfil to receive a positive report from the European Commission, EC. Macedonia hopes that this autumn's EC report will include a recommended date for the start of EU accession negotiations.
Last month, the parliament adopted amendments to the law on the financing of political parties, but still has to work on emendations to laws covering state administration and the official use of languages.
The DPA boycott is not a threat to the work of parliament as the party only has three deputies in the 120-seat parliament. However, it is feared that the boycott could bring into question the country's fulfillment of another EU benchmark: the maintenance of a positive political dialogue.
If Macedonia falls short, this would be the fourth year in a row, since the country became an EU candidate state in 2005, that it has failed to meet the necessary criteria for the initiation of accession talks.