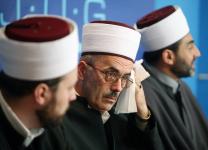 BELGRADE, Serbia
Police have found two pistols in the vehicle of the leader of the Islamic Community in Serbia, Adem Zilkic, the Serbian Interior Ministry confirmed on Tuesday.
Belgrade police discovered the weapons during a routine search. The pistols were confiscated by the Prosecutor's Office since Zilkic and his driver, to whom the pistols belong, do not possess the appropriate weapons permits.  
Speaking to reporters, Zilkic confirmed that the police had found the pistols in his car, adding that he did not have any problems in his communication with the officers.
Imams and other religious authorities from the predominantly Muslim Sandzak region dismissed Muarem Zukorlic from the position of head mufti of the Islamic Community of Serbia in 2007, appointing Adem Zilkic in his place. Zukorlic did not accept his dismissal and Sandzak now has two opposing Islamic authorities – Zilkic's, based in Belgrade, and Zukorlic's, based in Sarajevo.
The chief of Zilkic's cabinet, Jakub Lekovic, explained that Reis needs to bear arms due to the constant threats Zilkic faces.
A spokesperson for Zukorlic's authority, Sead Sacirovic, told Balkan Insight that he was not surprised that Zilkic had a gun.
"We have been warning for a while that it is a militant group with that man [Zilkic] at its head," Sacirovic said, blaming Zilkic for numerous incidents that he says have occurred in Sandzak.