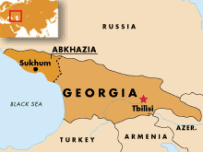 TBILISI, Georgia
A Georgian court has remanded in custody the Turkish captain of a tanker detained this week delivering fuel to the breakaway region of Abkhazia, as Tbilisi tries to enforce a blockade on Russian-backed separatists.
The captain faces up to 24 years' imprisonment if found guilty of smuggling and violation of a Georgian law banning unauthorized economic activity in the country's two rebel regions.
He was remanded in custody late on August 19, a Justice Ministry spokeswoman said. No date has yet been set for a trial.
The tanker, operating under the flag of Panama with a Turkish and Azerbaijani crew, was detained in the Black Sea off the Georgian coast on August 17 carrying 2,000 tons of gasoline and 700 tons of diesel.
Abkhazia issued an angry response, saying it was the third case of "Georgian piracy" this year.
"This incident proves the continuation of the Georgian policy to destabilize the situation in the region," Abkhaz leader Sergei Bagapsh said in a statement on August 19.
He warned Abkhazia would take "proportional measures" to protect cargo deliveries, without elaborating.
Georgia stepped up efforts to isolate Abkhazia and landlocked South Ossetia in the wake of last August's five-day war with Russia, when Russia crushed a Georgian assault on South Ossetia.
Legislation adopted in October banned economic and commercial activities on the territory of both regions without the permission of the Georgian government.
Almost all investment in South Ossetia and Abkhazia comes from Russia, which recognized the regions on its southern border as independent states with Russian military backing after the war. Shunned by the West, both regions are dependent on Russian aid and attracting Russian investment.
Under Georgian law, foreigners also face prosecution if they enter the territories without the permission of the Georgian authorities.
The tanker remains in the Georgian port of Poti, and Georgian media reports said it could be confiscated and put up for auction.