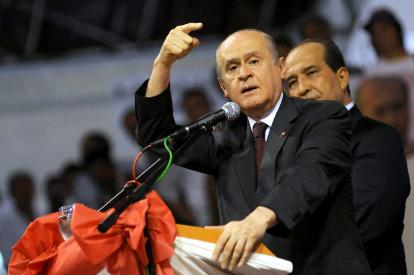 TURKEY
While Turkey's top security board convened to discuss government-led efforts to solve the Kurdish issue, the leader of the ultra-nationalist party strongly reacted to the process, calling it "destruction of the unitary state."
"What the government is trying to do is to place martyrs and butchers, our soldiers and murderers, security forces and terrorists into the same frame. It must be well known that the nationalist movement will never be a part of this game," Devlet Bahçeli, chairman of the Nationalist Movement Party, or MHP, said in a written statement Thursday.
The statement came hours before the National Security Council, or MGK, was convened. The Interior Minister, Beşir Atalay, who is the government coordinator for the Kurdish initiative, was expected to inform the members of the board about his meetings with political parties and nongovernmental organizations. The meeting was still under way late Thursday when the Daily News went to print.
Arguing that Prime Minister Recep Tayyip Erdoğan and imprisoned leader of the outlawed Kurdistan Workers' Party, or PKK, Abdullah Öcalan have now met on the same point, Bahçeli warned Erdoğan that "he was leading a treasonous project aiming to divide Turkey."
He also accused Atalay of trying to convince new abettors to join the project. "Atalay, the courier of the government, is being accompanied by the couriers of İmralı (the island where Öcalan is serving his life-time sentence)," Bahçeli said.
Meanwhile, the Democratic Left Party, or DSP, which is represented in Parliament by eight deputies, called on President Abdullah Gül to hold a meeting for the leaders of all the political parties to further discuss possible solutions to the Kurdish issue.