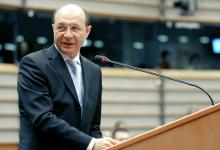 BUCHAREST, Romania
President Traian Basescu invited representatives of protesting police officers for discussions Wednesday, as officers launched a third consecutive day of protests across Romania.
The president said the discussions were intended "to find solutions" to officers' problems. The negotiation is to take place on Sunday and will focus on unpaid overtime, financial cuts and alleged corruption in the Interior Ministry.
Around 5,000 policemen have been protesting since the start of the week. They say the force is understaffed and that have been forced to pay for their own petrol and other costs.
Their protests are scheduled to continue until August 21.
The Romanian government recently announced that it will curb spending by 1.3 billion euros this year, to meet a new budget deficit goal agreed with the IMF, with most savings made through cuts to public sector wages.
The measures are seen as a short-term solution for Romania as it seeks to address the current economic recession.