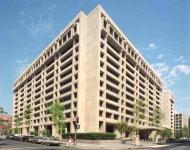 SERBIA
Serbian President Boris Tadic says that Serbia will propose a new package of measures dealing with public expenditure and administration cuts in upcoming talks with IMF officials.
"We need […] to rearrange public spending," Tadic acknowledged in comments carried by Fonet news agency.
He added that the best policy alternatives involve investing in the economy and creating productive workplaces. There are thousands of unnecessary positions in the Serbian administration, Tadic stressed.
In order to maintain fiscal stability, the Serbian government was forced to seek a €3 billion standby loan from the IMF; agreed in April on condition that Serbia's deficit not exceed 3 per cent of GDP.
With the deficit continuing to rise, Serbia is preparing for fresh negotiations with IMF officials next Monday, in which Belgrade will request permission to reassess the state budget.
Serbian Finance Minister Diana Dragutinovic told daily Press that she considers raising taxes on salaries over €400 as the best solution. This proposal, which will be put to the government, was initiated last November when Serbia reached an initial agreement with the IMF.
Dragutinovic explained that the idea of bolstering taxes on high earners by 20 per cent, and by 10 per cent on low incomes, would marry with best international practices. She expressed her hope that this would contribute to Serbia reaching an accord with the IMF; thereby receiving the second tranche of the IMF loan.
Serbian Economy Minister Mladjan Dinkic said that the government will eschew tax increases in the upcoming talks with IMF officials, instead offering reform of the state administration, website Emportal reported Tuesday.
He does not believe the government will adopt a fresh platform for next week's negotiations at odds with the previous plan.
A IMF representative in Serbia, Bogdan Lissovolik, refused to comment on the government's recent economic measures, in an interview with daily Danas, due to the "sensitivity of the upcoming talks".
He said that the IMF will ask the Serbian government to institute balanced and credible measures to secure fiscal sustainability.
Daily Blic reports that the government will discuss the measures it needs to take on Thursday.