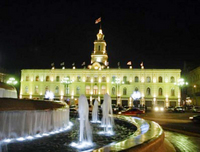 GEORGIA
Georgia's minister for refugees and accommodation has granted refugee status to a Russian soldier who deserted on July 1, a senior official said on Tuesday.
Dmitry Artemyev left his post at a Russian base in the South-Ossetian controlled village of Perevi near the Georgian town of Sachkhere after claiming he was "treated badly."
"The ministry granted Artemyev refugee status on August 4," Irakly Kokaya said.
He added the ministry and the UN Refugee Agency's office would provide initial financial support to Artemyev to enable him to find a job and accommodation in Georgia.
"We will not be able to care for him all his life, having so many internal refugees, but we will not abandon him either," the Georgian official said.
The Russian Prosecutor's Office Investigation Committee said Artemyev apparently left the Russian base with a Kalashnikov assault rifle and 180 rounds of ammunition, adding that a criminal case into desertion and arms theft has been opened.
This is the second time since January that a Russian soldier has deserted his unit in South Ossetia, a former Georgian republic, and requested asylum in Tbilisi. Jr. Sgt. Alexander Glukhov was given refugee status and a job in Georgia in late June.
A Georgian coast guard officer, Lt. Alik Bzhaniya, who crossed into Abkhazia in May, requested political asylum citing political reasons in June.
Wednesday, August 26, will mark a year since Moscow recognized South Ossetia, and another former Georgian republic, Abkhazia, as independent after a five-day military conflict with Tbilisi over the former.