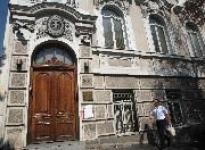 SERBIA
A group of young men threw two Molotov cocktails at the Greek embassy in Belgrade late Monday night, Tanjug news agency reports.
No one was hurt in the incident. A window was broken and the fire-bombs caused minor damage to the facade, but otherwise the building was unscathed.
A person from a five-member group threw the Molotov cocktails, broadcaster B92 reports, quoting eyewitnesses. The quintet then split into two groups, one of which left the scene in a cab. The other group left on foot. 
The identity of the culprits and their motivations are unknown.
Tanjug reports that police patrols immediately arrived on the scene. Serbia's Interior Ministry says that police are hard at work on the case.
Serbia's Foreign Ministry has strongly condemned what it coined this "vandal act", and says ministry representatives are in constant contact with the Greek embassy.
Work at the Greek embassy and consulate in Belgrade continued as normal on Tuesday.
The investigation is in progress and we are waiting for the police report," Tanjug quoted an embassy official as saying.