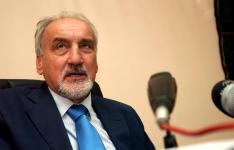 SERBIA
Serbian War Crimes Prosecutor Vladimir Vukcevic has expressed hope that the remaining war crimes fugitives, Ratko Mladic and Goran Hadzic, will be arrested by the end of the year, daily Vecernje Novosti reported Tuesday.
"The action team, and the state's top officials work hard every day on realisation of the final goal: to locate, arrest and extradite […] Ratko Mladic and Goran Hadzic," Vukcevic told the daily. 
Mladic, the war-time Bosnian Serb military leader, has been indicted by the International Criminal Tribunal for the former Yugoslavia, ICTY, for acts of genocide committed in ten Bosnian cities. He also faces charges of crimes against humanity and war crimes for an attack on the UN-declared safe area of Srebrenica in July 1995.
Following the arrest of former Bosnian Serb political leader Radovan Karadzic in July 2008, Mladic and Hadzic, the former head of the breakaway Croatian Serb republic, are the only fugitives still on the run.
When asked if any progress has been made in the search, Vukcevic said that the political will is there to secure their detention, as state officials are aware that every day of delay is costly for Serbia.
The head of the Serbian National Council for Cooperation with the Hague Tribunal, Rasim Ljajic, has said that Mladic cannot remain free for much longer given the continuous search efforts.
"He could be arrested soon, as it is impossible for him to escape from the best domestic officers and foreign intelligence agents, Ljajic told broadcaster B92 last month.