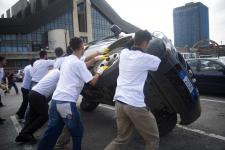 KOSOVO
Demonstrators from the Vetevendosje self-determination movement have been arrested after overturning 25 EU rule of law mission, EULEX, cars in central Pristina, Kosovo.
Some 21 protestors were taken into custody by Kosovo police after the incident, which occured behind the Palace of Youth at 11am on Tuesday.
Spokesperson Karin Limdal said: "EULEX strongly condemns the action taken earlier today in the centre of Pristina when a number of EULEX vehicles were damaged."
"Several individuals were arrested by the Kosovo police. EULEX praises the Kosovo police's fast and efficient response."
"Whilst EULEX supports the idea of peaceful protest as an important element in any democratic society, committing criminal damage does not further the interests or the arguments of any such protestors," she said.
Vetevendosje is a protest movement which has campaigned against alleged UNMIK and EULEX "meddling" in Kosovo's internal affairs and calls on these international organisations to leave the country.
In a statement it said three protestors had been injured during the police arrest, including one who is still in hospital.
EULEX has come under fire in recent weeks for its plans to sign a protocol with Serbia's Interior Ministry, to aid in the fight against cross-border organised crime. This has been condemned by Kosovo's government, which has said that it alone should sign international agreements.
Vetevendosje: "This action opposed the presence of EULEX in Kosova, and all its activities in and for our country, including the protocol which EULEX is going to sign with Serbia for cooperation with the criminal police of this criminal state."
"It is not just about the protocol. The expected protocol is just the latest symptom. EULEX is the sickness. EULEX calls upon the rule of law, but its members, together with their families, are immune from the law."
The statement added that EULEX calls on Kosovo institutions, over which it exercises executive authority, for support, without being answerable thereto.