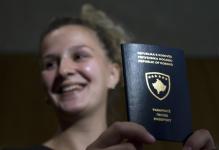 Egypt, Vietnam and Cambodia are the latest countries to begin issuing visas to Kosovo passport holders, despite not recognising the state.
According to research by the website KosovoThanksYou, Kosovars citizens have visited Egypt, Vietnam and Cambodia in recent months using passports of the Republic of Kosovo.
More than 20 countries which do not recognise the state of Kosovo now accept its passport.
These include Iraq, Haiti, Malaysia, Israel and South Africa.
In the European Union, Kosovo travel documents have also been recognised by Greece, Slovakia and Romania, although they haven't recognised Kosovo's independence.