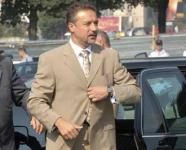 MACEDONIA
Macedonia's main opposition party, the Social Democrats, SDSM, will put up a tough fight in challenging the government's economic policies, and will provide alternatives, leader Branko Crvenkovski says.
The drafting of the party's new platform, which focuses largely on the economy, is nearly finished, he said in an interview this week with local weekly Globus.
"We will be completely ready to present the new SDSM, including the new platform, to the people by mid-September," he said. Crvenkovski added that the party is also undergoing radical structural and personnel changes over the summer.
The SDSM leader accuses the ruling centre-right VMRO-DPMNE party of hiding the devastating impact of the economic downturn.
He argues that the government's populist overspending on unprofitable projects, such as the building of sport arenas, theatres and churches, at a time of crisis is making a tough situation worse.
"There [will] come a time when they will have to face reality and the rising dissatisfaction," Crvenkovski said, noting that living standards had dropped since the VMRO-DPMNE took power in 2006.
Crvenkovski reassumed the party's leadership two months ago after his stint as the nation's president ended. He faces an uphill task in rehabilitating the SDSM.
The Social Democrats have comprehensively lost two general elections since he left the party leadership in 2004 to take up the presidency.
Crvenkovski says the party will not push for early elections as the people need time to get acquainted with the "new SDSM". The next general elections are slated for 2012.
He has slammed the head of the VMRO-DPMNE, Prime Minister Nikola Gruevski, accusing him of promoting ethnic and religious tensions by forcing mono-ethnic and mono-religious projects; such as the government initiative to build an Orthodox temple in Skopje using state funds.
In 2001 Macedonia suffered a six-month armed ethnic Albanian insurgency. A deal was struck the same year that envisaged the extension of greater rights to this community, which makes up a quarter of the population. The deal established the foundation for a multiethnic society but, in reality, largely focused on establishing equality between the two dominant ethnic groups, Macedonians and Albanians.
Crvenkovski also criticises Gruevski for playing the "patriot" when it comes to the country's ongoing spat with Greece over Macedonia's official name. The country's NATO accession process has been on hold since last year due to a related Greek blockade that, if unresolved, risks hampering Macedonia's EU prospects too.
"I strongly encourage Gruevski to engage in substantive talks with Greece" Crvenkovski said. The prime minister will have to choose between "reaching an acceptable compromise, or remaining the "biggest patriot" thus burying the country's future", he said.