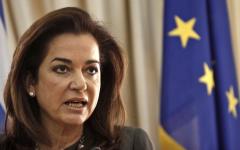 MACEDONIA
UN-brokered talks to settle the Athens-Skopje naming dispute are entering a crucial stage, Greek Foreign Minister Dora Bakoyannis said Tuesday.
She said that Greece faces an important six-months as it seeks to settle key foreign policy issues, including the name row, the online edition of Greek daily Naftemporiki reports.
"Greece's positions in the name talks are well-known, as [are] its red lines [… ] The aim is to find a mutually acceptable solution where there will be no winners or losers," Bakoyannis reportedly said, referring to the naming dispute.
Last year, Greece blocked Macedonia's NATO entry over the row. Athens argues that Macedonia's official name implies that it is making territorial claims to the northern Greek province of Macedonia.
Last week, both countries conveyed their official replies to UN mediator Matthew Nimetz's most recent set of proposals for solving the dispute. There has been considerable speculation in the media that variations on the name Northern Macedonia have been proposed by Nimetz as a possible compromise solution.
Macedonia's presidential cabinet released a statement on Monday that said that while "essential progress" has been made in the talks over Macedonia's official name, a final resolution is still a long way off.
In the last two months, several high-ranking EU and US officials have reiterated that the time is right for a settlement to the long-lasting spat, which dates back to the early 1990s when Macedonian declared its independence from the former Yugoslavia.