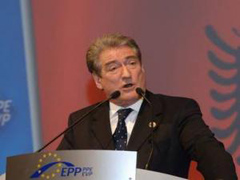 ALBANIA
Albania is the only country that didn't feel the impact of global economic crisis, the country's Prime Minister Sali Berisha said.
In his address to the Committee on National Strategy Planning, Berisha stressed that there have been pay cuts in all countries except for Albania, where salaries surged significantly, Makfax correspondent reported.
According to Berisha, the slashed value of Albania's domestic currency and strengthening of the euro had an impact on the country's budget deficit, which rose by 1% only.
Albanian prime minister said he was confident that the country is unlikely to feel the sting of the global economic downturn.