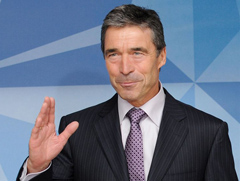 GREECE
NATO Secretary General Andres Fogh Rasmussen will visit Athens for talks with Greek officials. NATO chief will meet Greek Prime Minister Costas Karamanlis, Greek Foreign Minister Dora Bakoyannis and Defense Minister Evangalos Meimarakis.
Details will be announced at the press conference, which will be hold by Karamanlis and Rasmunssen. Greek side announced that NATO Secretary General is coming to discuss the whole range of the Alliance's activities and initial exchange of views regarding Greece's duties.
After his visit to Athens, Rasmunssen will travel to Turkey. Before the visit, Rasmunsen urged both countries to cooperate, as their disagreements affect NATO's mission in Afghanistan and Africa.