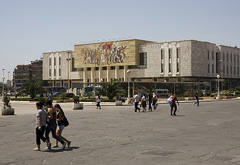 ALBANIA
Socialist Party MPs will boycott the Albanian parliament, party leader Edi Rama said one day after the extraordinary congress, Makfax correspondent reported.
The decision to boycott parliament is in line with the Resolution adopted at the party congress, according to which, the Socialist Party does not recognize the results of the June 28 parliamentary elections, Rama said.
He stressed that party leadership will decide when the Socialists' MPs will go back to parliament.
Socialists' leader called for snap polls to help Albania overcome the political crisis after, as he described, elections manipulated by the ruling Democratic Party.
Socialist Party is expected to elect party's top officials at congress slated for September 28. The current leader Rama is set to run for second term.