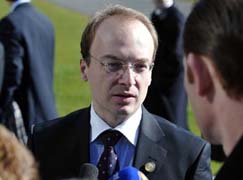 MACEDONIA, GREECE
Greece has toughened its stance in the dispute over Macedonia's name, making it more likely to block Macedonia's EU entry bid, Macedonian Foreign Minister Antonio Milososki said.
Milososki made the remarks in an interview for Reuters on the sidelines of a regional security conference in Slovenia.
Greece had resumed with "new dynamics" this year and Greece appeared to have toughened its stance since the 2008 NATO summit, he added.
"The only shift was for the worse in Greek attitude. They have toughened their position. We are concerned of a possibility of a second Greek blockade related to our opening EU accession talks," Milososki said.
And Greece's Secretary General for European Affairs, Dimitrios Katsoudas, also at the conference, told Reuters he was not optimistic that the name dispute could be resolved soon.
Katsoudas told Reuters that said Greece saw as a provocation Macedonia's recent decisions to name a road after Alexander the Great, an ancient Greek leader from the province of Macedonia, and a stadium in Skopje after Alexander's father Philip the Second.