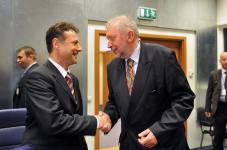 CROATIA
The foreign ministers of Croatia and Slovenia say further progress has been made in solving their countries' grinding border dispute, DPA reports.
Speaking after talks on Sunday in the Slovenian resort of Bled, Croatian Foreign Minister Davor Jandrokovic and his Slovenian counterpart Samuel Zbogar said they had discussed "major and serious" cooperation in the meeting, which could result in Slovenia lifting its objection to Croatia's EU integration process, DPA reports.
Croatia's EU accession process has been blocked by Slovenia since December over the dispute.
Quoted by the German news agency, Zbogar told reporters: "We're going to agree first on what to say, then make a public statement."
"I believe that during August we have worked very seriously and we have done a lot. There are still things that remain to be concluded," the Slovenian minister said, in comments carried by the Gulf Times.
Ljubjana claims that the dispute, which largely focuses on maritime borders, prevents Slovenian ships from gaining free access to the Adriatic.
Slovenian Prime Minister Borut Pahor also attended Sunday's talks. Speaking after a July 31 summit with new Croatian Premier Jadranka Kosor, he expressed optimism that a "final solution" to the dispute could be achieved by year's end.
The EU pulled out of negotiations on the issue after mediation efforts, led by EU Enlargement Commissioner Olli Rehn, failed to breach the incongruous positions of the sides.
With the economies of both countries suffering through the attenuation of bilateral trade, and Zagreb under pressure to gain greater access to European markets through EU accession, pressure is building for a resolution to the dispute.