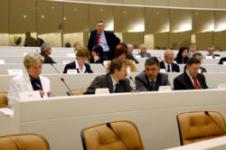 BiH
A leading Bosnian opposition movement, the Social Democratic Party, SDP, warns that, by further escalating the current political crisis, Bosnia's ruling parties are leading the country to the brink of a new war.
The warning comes after fresh political quarrels and tensions paralysed the work of the government of the Croat-Bosniak (Muslim Bosniak) Federation and threatened to block the work of the state government.
"Instead of facing the consequences of the economic and social catastrophe in which Bosnia and Herzegovina finds itself, and for which they have full responsibility, the ruling five [parties] are trying once again to bring Bosnia and Herzegovina towards the verge of a new war," the SDP said in a weekend press statement.
The statement was issued after the eruption of a major political crisis last week, when Bosnian Croat ministers launched a boycott of the Federation government after being "brutally" outvoted by their Bosniak colleagues on changes to the planned route of a key motorway.
Last week, Bosniak deputies also threatened to pull out of the state government.
The political quarrels and related developments continued over the weekend.
Bosnian Croat delegates in the Federation House of Peoples and House of Representatives are to hold a meeting to establish a joint position and strategy to address their current situation.
Josip Peric, the head of the Bosnian Croat caucus in the Federation House of Peoples, told reporters that the Bosniaks' goal is to completely marginalise Croats, adding that maybe the time is ripe to "abolish" the Federation.
Meanwhile Bosniaks said they will not be blackmailed by Bosnian Croats and that the Federation government can operate without them. At the same time, they threatened the Bosnian Serb state leadership by floating a boycott of the state government unless they are given more key positions in important national bodies.
Bosnians Serbs have rebuffed this threat, calling it a blackmail attempt. The speaker of the Assembly of the Serb-dominated Republika Srpska entity, Igor Radojicic, suggested that early elections may provide the only solution to this deadlock. This proposal was rejected over the weekend by the leader of his own party, the Alliance of Independent Social Democrats, Republika Srpska Premier Milorad Dodik.
Dodik and Bosnian Croat leader Dragan Covic held a brief parlay with Serbian President Boris Tadic in Belgrade on Friday, triggering fresh suspicions, conspiracy theories and criticism from Bosniak politicians.