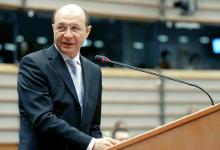 ROMANIA
On Monday, Romania's ruling coalition set November 22 as the date for the country's presidential elections and established new rules to improve the voting process.
The ruling centre-right Democratic Liberal Party, PD-L, and leftist Social Democratic Party, PSD, decided not to make any changes to the current election law, but agreed on some anti-fraud measures.
Special polling stations will be established for those who do not have a permanent residence in the locality in which they vote and webcams will be installed in polling stations so that voters are not tempted to vote twice.
A recent survey showed that 63% of Romanian citizens are convinced their votes will be subject to fraud. Only 18% of respondents believe the elections will be fair.
President Traian Basescu, who has ties to the PD-L, is expected to run for re-election in November. His main rival, according to polls, is PSD leader Mircea Geoana.
Prince Radu Duda – a former Romanian actor married to Princess Margaret, the eldest daughter of the country's last king – is also amongst those to have announced their candidacies.