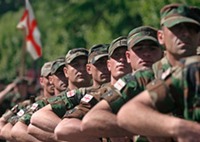 GEORGIA
The German Bundeswehr's delegation, headed by Colonel Claus Dieter Blisom, is on a visit in Georgia and the main purpose of the visit is integration into a unified system of the NATO codification system, the Georgian Defense Ministry reported.
Today, codification officers of the Logistic Center shared their experience with Georgian colleagues. They spoke about the technical aspects of improving the compatibility with the NATO Codification System. The Bundestag experts made recommendations for their Georgian colleagues.
The staff of the Department of Information Technology, Standardization and Codification held an informal presentation.
Cooperation between the Georgian and German defense ministries is part of the bilateral cooperation plan signed in 2009, said the Georgian Defense Ministry.