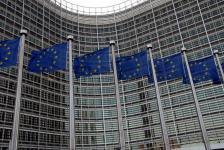 ROMANIA
The Romanian government is engaged in intensive lobbying as it looks to snare a key European Commission post for the country's former agriculture minister.
Dacian Ciolos is Bucharest's candidate for the post of EU Agriculture Commissioner, President Traian Basescu confirmed on Wednesday.Basescu stressed that Romania is willing to accept a different porfolio, but is clearly set on obtaining the agriculture post.
Romania's ruling coalition agreed earlier this week to back Ciolos's candidacy.
Analysts say it will be difficult for Romania to snare the coveted agriculture portfolio, but officials seems intent on mobilising all their political and diplomatic resources to achieve this goal.
Bucharest is ready to send an official letter nominating Ciolos for the position, but has to wait for September's election of the next Commission president.
Ciolos headed the country's Agriculture Ministry for one year between 2007-2008. Having studied agriculture in Romania and in France, he has worked as an agricultural expert for the Commission representation in Bucharest.
Currently, Ciolos chairs Romania's agriculture commission, a consultative body under the aegis of the presidency.