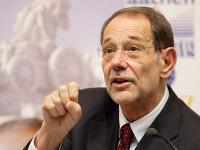 SERBIA
EU foreign policy chief Javier Solana has given his backing to the EU rule of law mission, EULEX, to sign a policing protocol with Serbia.
The EULEX-Serbia protocol was delayed because of the opposition of the Kosovo government. The latter argues the agreement violated Kosovo's constitution.
The protocol, to be signed between EULEX and Serbia's Interior Ministry, covers a variety of policing issues and mandates cooperation in the fight against organised crime and the smuggling of people, drugs and weapons.
EULEX sought an official response from Brussels when Kosovo's government said it would no longer discuss the protocol last week.
Christina Gallach, Solana's spokesperson said: "The EU Political and Security Committee ambassadors fully supported the work of the EU presences on the ground [EULEX and EUSR], including the technical arrangements with Belgrade. This is a crucial element in fighting organised crime and will be to the benefit of all the people of Kosovo."
She added that the ambassadors deplored the damage done to EULEX vehicles in a recent demonstration in Pristina and expressed their concern regarding latest developments in northern Kosovo.
Concurrently, the EU special representative for Kosovo, Peter Feith, presented a report on the latest developments in Kosovo to the European Parliament.
Feith said that Kosovo has achieved progress in the development of democratic institutions and mechanisms but still faces numerous challenges.