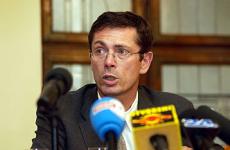 CROATIA
Croatian Justice Minister Ivan Simonovic has not given up on the extradition or imprisonment of suspected war criminal Dragan Vasiljkovic, the Croatian Times reports.
Simonovic says he still believes that Vasiljkovic will be re-incarcerated or extradited to Croatia despite his seemingly imminent release from an Australian jail.
The Croatian Times reports that Vasiljkovic, who was nicknamed Captain Dragan during the 1990s Balkan conflict, was ordered released by the Australian Federal Court on Wednesday.
The court said Vasiljkovic would not be extradited to Croatia where, it was claimed, he would not receive a fair hearing.
Simonovic said that he fears that, if released, Vailjkovic will go into hiding, and confirmed that Croatia will appeal the ruling to the Australian Supreme Court, the news-site reports.
The Sydney Morning Herald reports that the Federal Court has stayed the implementation of its emancipation order till Friday, to give the Croatian government time to file an appeal.
Vailjkovic has been living in Australia – where he grew up after moving there with his family as a child – under an assumed name, Daniel Snedden. He was arrested in January 2006.
Vailjkovic is accused by Croatia of involvement in the alleged torture and murder of Croatian police and army officers and of purportedly instructing others to commit murder as a leader of a Serb paramilitary group in Krajina.
Referring to the Australian Supreme Court, Simonovic was quoted by the Croatian Times as saying: "We expect its decision will be positive. But, if not, it will not mean freedom for Vasiljkovic because there is no statute of limitations on war crimes."