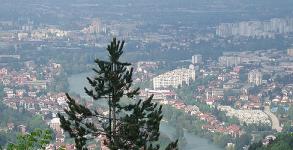 BiH
The operational phase of NATO's first major exercise in Bosnia kicked off on Friday in the north-western town of Banja Luka, as Banja Luka University students rallied for the demilitarisation of the country.
"The meetings are not in protest and we are not gathering against something or somebody. To the contrary, we are gathering because we are for the demilitarisation of Bosnia and Herzegovina and redirection of resources from the military into education, science and culture," a statement from the university's student parliament read.
The turnout at today's Banja Luka event was fairly low, with some 50 students and a few professors and local residents in attendance. The students said this was just the beginning and that they were planning further events in east Sarajevo and Mostar.
Several Bosnian Serb war veterans' groups are among the citizens' associations that are planning demonstrations during the NATO exercise.
Some Bosnian Serb and Serbian officials warn that NATO may have secret intentions, such as surreptitious intelligence gathering, in holding the military exercise so close to Banja Luka, the administrative seat of the Serb-dominated Bosnian entity of Republika Srpska.
NATO has refrained from commenting on these allegations.
So far, there has been no clear news on the scheduled protests and the students' meetings are not expected to affect the NATO exercise, which continues till September 17 at Banja Luka's Kozara barracks and incorporates activities in the Netherlands and Denmark.
The exercise was officially opened at a ceremony on Thursday afternoon, attended by representatives of the US command for Europe (US EUCOM), US embassy in Bosnia, and Bosnian Defence and Armed Forces Ministry.
It is aimed at testing communications capacities and compatibilities among different NATO member countries, with military personnel only taking a limited role.
This is the first time NATO's annual Joint Endeavour exercise has taken place in a non-NATO country; a move designed to show support for Bosnia's swift accession to the Alliance.